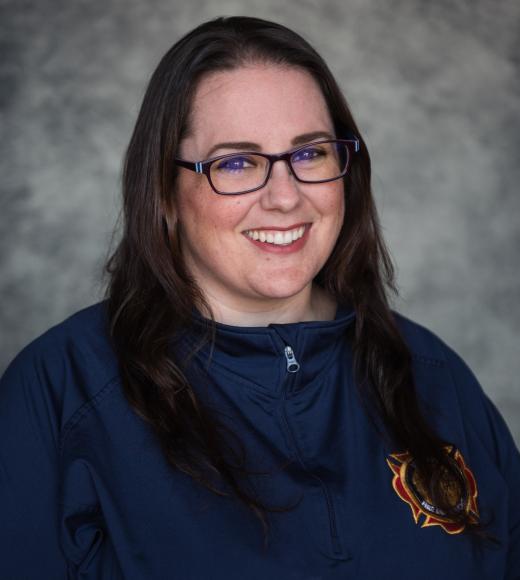 Position Title

Strategic Fire & Emergency Services Analyst
Office Hours
8am-5pm Monday-Friday
Bio
Meghan began her career at the UC Davis Fire Department in 2006 in the Fire Prevention Division. In 2010, she accepted a position with the Operations Division as the Executive Assistant to the Fire Chief and in 2014 became the department's Strategic Fire & Emergency Services Analyst.
Meghan is a graduate of UC Davis, with bachelor's degrees in Sociology and Native American Studies. She is currently working toward her master's degree in Technology Management at Georgetown University. At the UC Davis Fire Department, Meghan administers the UC Davis public access Automated External Defibrillator (AED) Program, which coordinates the placement of AEDs throughout the campus community. She has been an EMT since 2007, and develops public education that highlights the importance of CPR and AED training within the community.
In addition to the AED program, Meghan serves as one of two administrators of our records management system, Firehouse. She has instructed on the software for a number of agencies, including the UC Santa Cruz Fire Department and the City of Watsonville Fire Department.
 
Meghan has always been interested in the fire service, even prior to joining the UC Davis Fire Department. Her initial first-hand exposure to the fire service was in high school, where she spent a summer working for the Marin County Open Space District as a Ranger Aide. Along with her fellow crew members, she worked on projects including vegetation management, ecosystem restoration, and the establishment of defensible space.
 
While Open Space was her first fire-related job, her interest in the fire service was developed genetically, following her two uncles, her father, and her grandfather, who retired from the San Francisco Fire Department as a firefighter, captain, investigator, and assistant chief, respectively. Her great grandfather, also a firefighter in San Francisco, died in 1932 as a result of injuries sustained fighting a fire at St. Ignatius Church, from which Meghan later graduated high school.
As the accreditation manager for the department, Meghan looks forward to working with department management and membership to set the future course for the UC Davis Fire Department.