New Home for Antique Fire Engine 4
The UC Davis Fire Department's (UCDFD) antique Engine 4 found it's way to a new home at the Sacramento Regional Fire Museum in West Sacramento. Engine 4 will be housed in the museum along with other antique apparatuses from Dixon, Fairfield, Winters, Sacramento City and others in this brand new facility. It will be included in a display about the UCDFD's story including information about their programs, history, and memorabilia. 
The Engine 4 was originally purchased by the UCDFD in 1939 and served the campus for three decades. It was the campus' first factory made fire apparatus. The fire engine is a Seagrave engine with 500 gpm, two-stage centrifugal pump, and eight-cylinder Seagrave engine.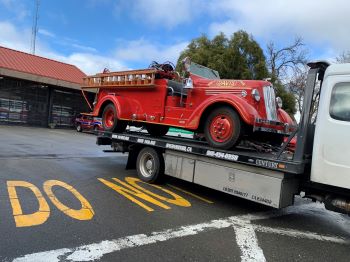 The engine 4 was up and running within its first 24 hours in the museum thanks to volunteers who changed the fuel line, tuned the engine and fixed brake issues. 
You can visit Engine 4 and the rest of the Sacramento Regional Fire Museum Friday-Sunday from 10 am-1 pm. 
Primary Category
Tags