Fundamentally reimagining how we care for our
community - to prevent crises whenever possible.
Delivering Aggie Care Everywhere: the connection to services you need, when you need them, right where you are.
The Health 34 initiative, led by the UC Davis Fire Department, leverages our trusted network of campus and community service providers who will deliver mobile non-emergency response including mental health navigation and minor medical care to every segment of the UC Davis campus. 
In addition to navigating the UC Davis community to needed services, Health 34 will actively work to reduce barriers to accessing care by meeting those who seek care where they are.
Partners to Build a Healthier, More Resilient Campus
Rooted in the concept of Mobile Integrated Health, the program delivers care and service navigation 24/7 directly to those in need. 
Health 34 Objectives

Intervene in advance of a crisis to foster wellness.
Deliver mental and minor health services outside (in addition to those offered in the traditional clinical setting).
Deliver both acute care and service navigation 24/7 to the campus community, right where they are.
 
Community Centered on Wellbeing
Health 34 aims to increase community trust, especially with underrepresented and historically marginalized communities.
Health 34 will provide community-based systems of care that meets people where they are, by:
Connecting with at-risk community members before crisis
Providing resource navigation and case follow-up
Triaging pre-crisis health issues to the appropriate level of care
Delivering acute care where appropriate directly where the person is
Delivering health and wellness support and education to the community
 
---
Turning Plans Into Actions
Health 34 is part of the university's reaffirmed commitment in 2020 to re-imagine public safety on a college campus.

Health 34 offers an alternative to traditional crisis response, that aligns with:
UC Davis' Strategic Plan

Principles of Community
---
If you have questions, contact Fire Chief, Nathan Trauernicht, at firechief@ucdavis.edu
Call 911 If You Are Experiencing An Emergency
Links to Alternative Care:
---
Health 34 initiatives will be rolled out in the following phases:
Phase 1: Fall/Winter Quarter 2022
-Operationalizing the concept: organizing partners, processes, and data
-Collection of pathway navigation resource providers
-Community outreach education campaign
-Recruitment & initial training
Phase 2: Winter/Spring Quarter 2023
-Community outreach and education programs with campus partners
-Quick response mental health services: non-clinical support using referral navigation and scheduled follow-up
-Post treatment wellness-checks for SHCS & OCC Health
-FD response to

 patients in severe condition that require short-term care on scene


-Response requests through use of a 7-digit number
Phase 3:  Fall/ Winter Quarter 2023
-Mobile flu and COVID-19 vaccination services
-Non-violent PD referrals
-

Expanded response access to include text-for-service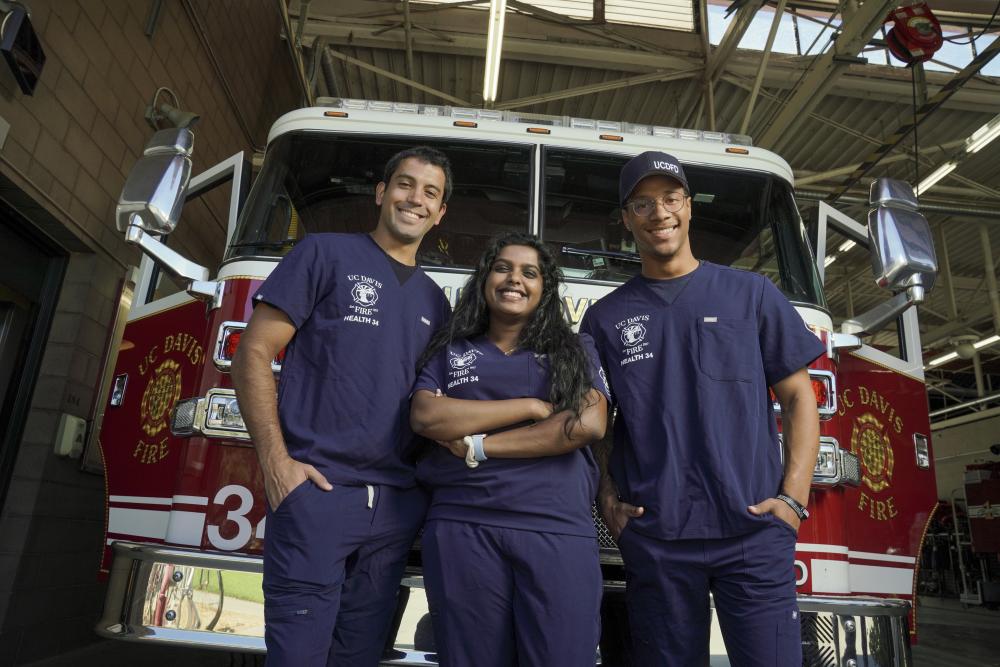 ---