Student Firefighter Pancake Breakfast Fundraiser
Virtual Fire Department student firefighters' pancake breakfast fundraiser 
The UC Davis Fire Department Student Firefighters are hosting a virtual pancake breakfast fundraiser for the Firefighters Burn Institute, a burn treatment facility at the UC Davis Medical Center. The fundraiser will run from May 15 through June 15, 2021. 
There are three ways to help our cause!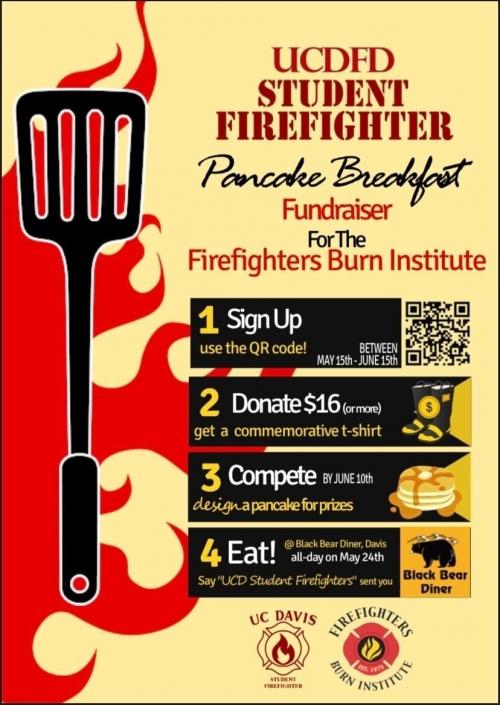 Buy a T-shirt
Help support our student firefighters and the Firefighters Burn Institute by buying a t-shirt. Place your order here!
Donate
Donate $16 or more and receive a free commemorative t-shirt.
Compete
Submit a picture of your best pancake design via email to ucdfdsrff@gmail.com by June 10 at midnight. The winning design will be awarded a $50 Woodstock Pizza gift card and a Firefighter's Burn Institute t-shirt!
T-shirt and contest prize pick up
T-shirts and contest prizes will be available for pick up in late June at Station 34. You will receive an email when your shirt is ready for pick up. 
Primary Category
Tags