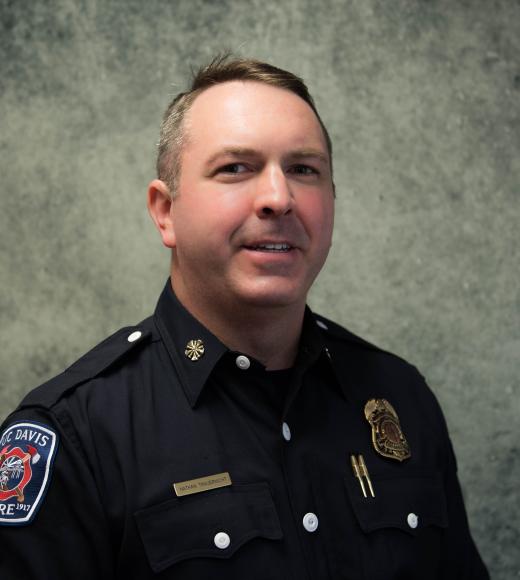 Position Title

Fire Chief
Office Hours
8am-5pm Monday-Friday
Bio
Serving in the fire service since 1993, Nathan J. Trauernicht has a diverse background that includes positions ranging from Firefighter to Fire Chief with departments across the country.
Currently Fire Chief for the City of Davis and University of California – Davis, Chief Trauernicht provides overall leadership and direction to both departments under a shared management agreement that serves a combined population of over 100,000.
 
Nathan was recognized by the Sacramento Business Journal as one of its 40 Under 40 for 2015, representing the region's youngest and brightest professionals.  In large part this recognition can be attributed to a series of innovative programs he championed including introducing the life-saving smart phone application PulsePoint, the vision behind the multi-agency training division known as the West Valley Regional Fire Training Consortium, and Fit for Fire which introduces the community to the fire service through a challenging group fitness class.
Nathan earned his undergraduate degree in Fire Protection and Safety Engineering from Oklahoma State University and holds a master's degree in public administration from the Keller Graduate School of Management. Beyond completing the Executive Leadership and Management Institute (ELMI) at Stanford University, Nathan is a graduate of the UC Davis Executive Program, Member of the Institution of Fire Engineers (MIFireE), and is designated as a Chief Fire Officer® (CFO), Chief EMS Officer® (CEMSO), and as a Chief Training Officer® (CTO) by the Center for Public Safety Excellence.
Chief Trauernicht is active in a number of professional groups, boards and committees; serving as Past President of the California Fire Chiefs Association (CFCA), as two time Past President of the CFCA - Operations Chiefs Section, is appointed to the Board of Directors of the National Fire Service Research Center and Policy Institute, and on technical committees for NFPA 1000 and NFPA 1021.